Organisers reported that 142 lots sold for $80,237,000.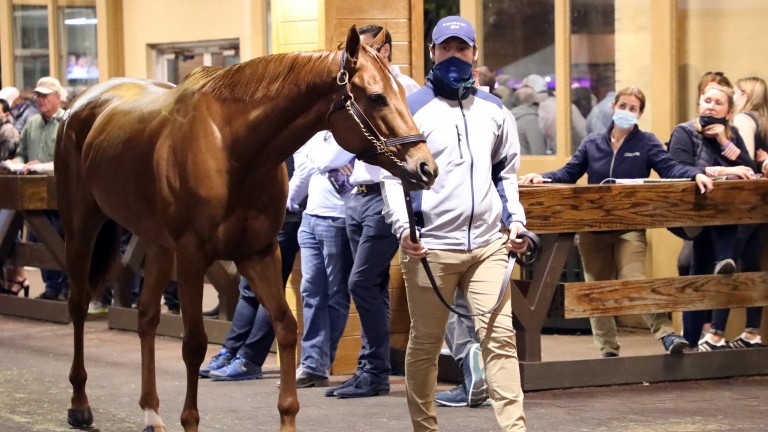 Fuelled by nearly insatiable demand for top racing and broodmare prospects and a deep buying bench headed by B Wayne Hughes' Spendthrift Farm, The November Sale, Fasig-Tipton's breeding stock sale in Lexington, lived up to its "Night of the Stars" moniker on Sunday.
From 288 catalogued, Fasig-Tipton reported 142 head grossed $80,237,000, with an average price of $565,049 and a $200,000 median. The 69 horses that went unsold represented an RNA rate of 33 per cent.
There were 22 horses sold for $1 million or more, compared with 18 horses sold for seven figures a year ago when 128 horses grossed $68,011,000 for an average price of $531,336 and a $300,000 median. The 40 horses that went unsold represented an RNA rate of 24 per cent.
Fasig-Tipton president Boyd Browning Jr was blown away by the strength of the sale, noting it was a credit to Fasig-Tipton's customers who entrust their prized stock to the sale company.
"A remarkable evening," Browning said. "If someone would have told me or you all six months ago when our world kind of changed, or six weeks ago, six days ago, or yesterday that we were going to sell $80 million of horses tonight and 22 for $1 million or more, they probably would have taken me out of here in a straitjacket and said he is now delusional.
Hip 192 MONOMOY GIRL sells for $9.5M at The #FasigNovember Sale! Congrats to the connections:

B: @spendthriftfarm
C: @EliteRaceSales, agent @dubbland @stuartmgrant @bradcoxracing pic.twitter.com/eubmF6RI99

— Fasig-Tipton (@FasigTiptonCo) November 9, 2020
"There's no magic. The success of this sale was built upon having a tremendous catalogue of quality horses. It was a spectacular catalogue.
"It's a relationship-based business," Browning continued. "It's not just me. If you go through that (Fasig-Tipton) office, on our sales team, every person involved in the organisation has a key factor in recruiting some of these elite horses, and that's why it works.
"There's an awful lot of people who work hard on a year-round basis to recruit and to build the relationships with the people because we care about them and we care about their horses."
Not surprisingly, the star of the show was Monomoy Girl, the champion filly who made a courageous return to the top ranks of competition this year after missing all of 2019 due to colic and a pulled muscle.
She went into the sale ring off an impressive second victory in the Longines Breeders' Cup Distaff at Keeneland the day before the auction. Consigned as part of the ELiTE consignment, Monomoy Girl was purchased by Spendthrift for $9.5 million.
The price tied two-time champion Songbird for the third-highest paid at the November sale for a filly or mare, exceeded only by the $14 million paid for Better Than Honour and the $10 million price tag for Horse of the Year Havre de Grace.
Overall, Spendthrift spent $25.03 million for 12 horses, averaging $2,085,833.
Spendthrift general manager Ned Toffey said the numbers were not surprising, considering those mares were at the top of the market.
"The kind of mares we zero in on at this sale, they aren't affected as much by market conditions," Toffey said. "We were pretty sure that for the high-end mares, it would be very competitive.
"The big question is with the lesser mares here and all through the books at Keeneland (November Breeding Stock Sale), what will that be like? With the yearling sales down, who knows what that market will hold. We are as curious to see as anybody."
The top price for a weanling was the $600,000 paid by OXO Equine for a colt from the first crop of City of Light consigned by Hunter Valley Farm.
Browning said the market for weanlings was selective as pinhookers who buy to resell the following year had been impacted by the Covid-19 market of 2020.
"I don't think there is any question that weanling pinhookers that bought in 2019 and sold in the 2020 market had a very difficult year, so I think it stood to reason that there would be a little more restraint overall with the pinhooker group, and some of the high-priced weanlings were sold to end-users," he said.
"We know the targets get a little bit narrower. I think there was a little more hesitancy on the weanling side of things tonight than there would have been a year ago."