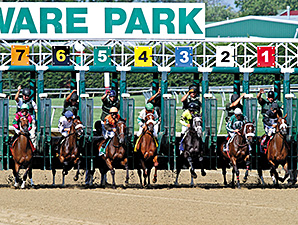 Photo by Chad Harmon
Delaware Park officials reported a decline in pari-mutuel handle for the 2014 racing season that ended Oct. 22, but said they will continue to explore ways to strengthen the racing product in a gambling-congested Mid-Atlantic market.
The track, which has slot machines, table games, and limited sports betting, at one time only competed with Atlantic City casinos for regional business. The addition of casinos in Maryland and Pennsylvania, however, has led to revenue declines, which in turn have led to purse reductions and fewer racing dates.
Thoroughbred purses, according to The Jockey Club Information Systems, totaled $14,819,975 this year versus $18,429,479 last year with 81 racing days. That's a drop of 19.5%.
The track was scheduled for 81 racing days this year but lost one because the card wouldn't fill. It is scheduled for the same 81 days in 2015.
Total handle for the meet was $102,834,201, down 10.7% from $115,151,678 last year, officials said. The average per race day of $1,285,428 was down 9.6% from the 2013 average of $1,421,626. Average handle per race was $156,521, down 1.9% from last year.
The decline in average daily handle was due in part to a decrease in the average number of races per day, 8.21 this year compared with 8.91 in 2013. The total number of Thoroughbred races in 2014 was 599, according to TJCIS, but when Arabian races are added the overall total was 657. The total figure was down 9% from 722 last year.
Thoroughbred field size was up slightly from 6.99 in 2013 to 7.11 this year, according to TJCIS. Delaware Park competes with Monmouth Park in New Jersey and Parx Racing in Pennsylvania through its entire meet.
"Purse reductions due to the increased casino competition in the Mid-Atlantic region and the continued foal crop decrease have continued to make things challenging," Delaware Park executive director of racing John Mooney said. "Despite those challenges, we had a very exciting meet in 2014 and we have much to look forward to next year.
"The combined handle on the Delaware Handicap (gr. I) and Delaware Oaks (gr. II) cards improved dramatically, and there were significant memorable moments on the track as well.  We will continue to explore every option to strengthen our racing product in the current environment."
Officials said the combined handle on the Delaware Handicap and Delaware Oaks cards was up more than 85% to $6,452,595 compared with $3,439,604 last year.
Read more on BloodHorse.com: http://www.bloodhorse.com/horse-racing/articles/88207/handle-down-at-challenged-delaware-park-meet#ixzz3H1xDLYXw