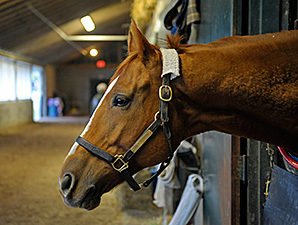 Photo: Anne M. Eberhardt
Two-time Horse of the Year Wise Dan will begin tack-walking and is expected to undergo further evaluation in two to three weeks as to whether he will continue progress toward a return to the races in 2015, trainer Charlie LoPresti said March 2.
Morton Fink's 8-year-old Wiseman's Ferry gelding missed a run in the Breeders' Cup Mile (gr. IT), a race he won in 2013 and 2012, due to a non-displaced fracture at the bottom of the cannon bone of his right front fetlock announced last Oct. 13. The injury resulted in only minor lameness for Wise Dan, who began to heal with tack-walking and being turned out in a round pen at Keeneland, then followed his usual seasonal routine of turnout at LoPresti's Forest Lane Farm near Lexington.
"We X-rayed him on Friday (Feb. 27) and the fracture is healing well," LoPresti said. "The inside looks great, but the outside edge of it needs to fill in some more. Dr. (Larry) Bramlage wants me to put the tack on him and start walking him to put some pressure on it and get some more bloodflow to it. We'll take another set of X-rays in two to three weeks and if it looks okay we might start jogging him."
Wise Dan, a six-time Eclipse Award winner, had his season interrupted by colic surgery last year after taking the Maker's 46 Mile (gr. IT) and the Woodford Reserve Turf Classic (gr. IT) for the second season in a row. He came back to win the Bernard Baruch Handicap (gr. IIT) and won a second edition of the Shadwell Turf Mile (gr. IT) before the injury ended his undefeated 2014 campaign.
"The most important thing is that we get that injury to be 100%, and until it's 100% we can't go any further," LoPresti explained. "Mr. Fink is of the opinion that we do whatever we have to do to have that horse 100%, even if he never runs again, just so he'll have a perfect rest of his life. If he's 100% then he'll resume full training. If he's not, I want everybody to realize we will not go any further with him until that thing looks perfectly healed. I'm not going to risk anything just to bring him back.
"He's not in full training. He's 100% sound but the X-rays still show a little gray area, and that thing has to get dense and fill in the rest of the way. This is the next step, to get him back under tack, and we're optimistic."
Wise Dan, bred by Fink in Kentucky out of the Wolf Power mare Lisa Danielle, has taken 11 grade I races in his 23 wins and finished second twice from 31 starts, good for earnings of $7,552,920. He was named Horse of the Year in 2013 and 2012, and swept the titles for champion turf male and champion older male in both of those seasons as well.
The chestnut gelding enjoyed six to seven hours of turnout daily in the paddock at Forest Lane, but was happy to return to Keeneland two days ago.
"He's been bored at the farm; he's been wanting to do something and he bounced off that van and said 'OK, let's go to work,'" LoPresti said
Read more on BloodHorse.com: http://www.bloodhorse.com/horse-racing/articles/90412/champion-wise-dan-back-at-the-track#ixzz3TJt0Xx3Z