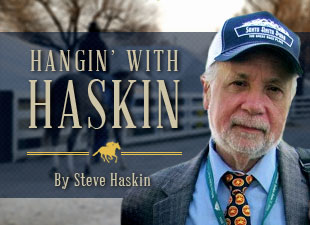 The press box. The name evokes images of veteran reporters, sleeves rolled up, sitting behind their Underwood typewriters in a cloud of cigar or cigarette smoke, pounding out stories, scoops, columns, and features for the many newspapers across the country – whether from New York, Boston and Chicago or Kansas City, Cleveland, and St. Louis. Names like the Post-Dispatch, Plain Dealer, Globe, Herald, Post, Times, Tribune, Gazette, Daily News, and Free Press were bibles in their home cities. And horseracing was considered one of the deified chapters.
Whether covering horseracing, baseball or boxing, the three most popular sports in America from the '30s to the early '60s, the press box was a place of camaraderie, stories, jokes, and perhaps a drink or two at the end of the day.
Those who inhabited the press box were respected journalists, who came up through the ranks and were the envy of every kid who could only dream of interviewing Mickey Mantle, Duke Snider, Ted Williams, Willie Mays, Sugar Ray Robinson, and Mohammed Ali, and get right up close to Kelso, Citation, Swaps, Buckpasser, Damascus, and Dr. Fager.
These were men at the top of the food chain – men like Red Smith, Dick Young, Jim Murray, Joe Palmer, Charlie Hatton, Barney Nagler, Joe Hirsch, and before them, Grantland Rice, Ring Lardner, and Damon Runyon. They were all legendary sportswriters and they all covered Thoroughbred racing, which the great Red Smith always said was his favorite sport to cover.
These men were revered; a small group who attained fame themselves, as did, in many ways, every racing beat writer who was able to make it to the top of his profession and say proudly he was a sportswriter or a racing writer. These were not young men in their 20s and 30s; most were veterans in their 50s and 60s who started at the bottom and had to earn their way into the press box. To become part of this fraternity was an honor. As famous as the late actor Jack Klugman was, don't think he wouldn't have loved to have been Oscar Madison.
It is sad to say those days are gone. Yes, gone with the wind – the wind of change. The once hustling and bustling press boxes are now no more than ghost towns; hollow shells inhabited by no one. The most hallowed of all press boxes was at Churchill Downs, with its panoramic view of the track. That was torn down a number of years ago, with the media being moved to another facility, called a "media center" – a large space that was occupied at full capacity only one week out of the year. So to make way for a new luxury suite, the media was moved yet again, this time to a former betting parlor located near the track's front entrance and far removed from the actual racetrack. Media members no longer park on-site, but are now shuttled from a far-off parking lot to and from the track.
The sport, from a media standpoint, has changed dramatically with the times. The sounds of pecking on computer keyboards can be heard only four times a year now, during the Triple Crown and Breeders' Cup. But no longer are the stories emanating from those computers being sent to newspapers by professional, salaried employees of those papers. The press box occupants are now mainly free-lance writers or bloggers writing for websites or their own personal blog. Names like the Times, News, and Gazette have been replaced by Horse Racing Nation, America's Best Racing, Thisishorseracing, outlets for ESPN and Fox Sports, and Horseraceinsider, run by former Newsday racing writer John Pricci.
In New York, for example, the Times stopped having a regular presence in the press box years ago, now concentrating more on occasional features and exposes. The day before last year's Belmont Stakes, the Post fired its longtime racing writer and their two top handicappers. The News got rid of all newspaper coverage, focusing on the internet, only to fire their racing writer and handicapper this week. Long Island's Newsday also is long gone as far as racing coverage.
In another incident this week, we didn't have a newspaper getting rid of racing, we had racing get rid of a newspaper. The New York Racing Association banned the popular publication The Saratoga Special from being distributed at Saratoga for reasons known only to them. Considering the Saratoga Special boosts interest in racing at Saratoga, is not controversial in any way, is a must read when in Saratoga, and costs absolutely nothing, NYRA's actions seemed perplexing. A compromise was then made, allowing the publication to be distributed at only three designated places on-track. Then, thanks to the rallying cry of its supporters and the efforts of several people at NYRA, the Saratoga Special finally was "back in business." Who knows what that was that all about in the first place?
Here we had another example of the silencing of horse racing by eliminating, or in this case, attempting to eliminate, a newspaper. This time, however, it was racing devouring itself. Thank goodness, the powers that be came to their senses.
The Belmont Park press box has now become virtually silent, an echo chamber with the Daily Racing Form all that remains of the once extensive press corps.
Racing's leaders talk about the reversing the decline of the sport, dealing with a litany of controversial issues and basically making little headway.
But can't we see what is right before our eyes; something we are blind to or choose to ignore?
If the racing world is ever going to end it is not going to happen in one cataclysmic blast. As Rachel Carson wrote in Silent Spring, "Over increasingly large areas of the United States, spring now comes unheralded by the return of the birds, and the early mornings are strangely silent where once they were filled with the beauty of bird song."
Like everything, there are warning signs. No one is attempting to compare the steady disappearance of the birds or the loss of the rain forests and other important habitats to the steady disappearance of newspaper racing writers. But it nonetheless is a warning sign of the sport's self-destructrion. It is not the actual disappearance of racing writers as much as it is the reason why newspapers have gotten rid of them.
According to newspaper editors and publishers, no one cares about racing anymore. Instead of attempting to make them care, they just take the sport, crumple it up and throw it in the trash, as they would a piece of poorly written copy.
We may not realize it, but this is a microcosm of what is happening to the sport on all fronts, in that we have lost one of the main concepts of journalism – force the public to become interested, just as poker, NASCAR, wrestling, and mixed martial arts have done. Just as milk did years ago and insurance is doing now. The public has proven time and again they will buy anything if you make them. Make racing a product in demand and the newspapers will return, and so will the journalists.
Of course, this is easier said than done. It requires an inventive marketing mind on a national level, not just marketing heads at individual racetracks. It is the fractured nature of racing that has hurt the sport. Yes, of course, we must get rid of the public's perception of racing by exposing the cheaters and uncovering sinister activities and pushing for harsher penalties. But, like everything, that is a slow, tedious process and easier said than done when you have no single ruling body, as do the major sports.
Racing writers once helped nourish the Sport of Kings, enabling it to continuously grow, not only by their words, but by bringing it into the public's consciousness through newspapers. Not just the public in New York or Los Angeles, but in small cities and towns across the country. They were the link between horseracing and America, even to venues like Salt Lake City, Dallas/Fort Worth, Denver, and Spokane. They all had a presence in press boxes across the country. Now, as the newspapers say, no one cares anymore, except on the rare occasion when you have a California Chrome or a Smarty Jones. But the sport cannot subsist on such a sparse diet.
So, newspapers continue to eliminate what they consider to be dinosaurs. First it was the racing writers. Next it will be the sport itself, which has been driven into the ground and is close to being buried completely. A good deal of the publicity racing does get concerns its nefarious activities, and many people now view the sport in a negative light. We must eliminate that perception in the eyes of the general public. We must bring back the birds. We must bring back the beauty. We must bring back the words.
Read more on BloodHorse.com:  http://cs.bloodhorse.com/blogs/horse-racing-steve-haskin/archive/2014/07/20/ghosts-of-press-boxes-past.aspx#ixzz38Bur5OQf