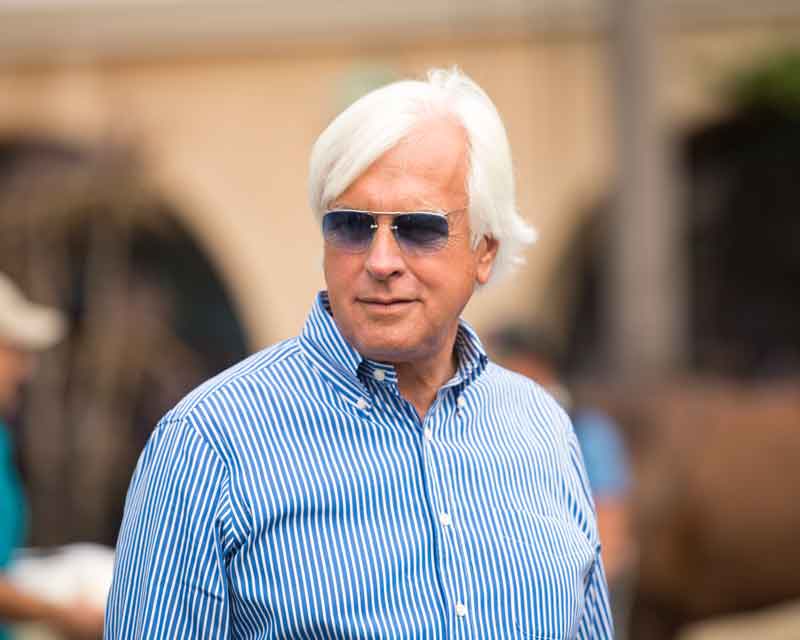 FOR BAFFERT, THE 2-YEAR-OLD STAKES HITS JUST KEEP ON COMIN'
With the victory by Mucho Gusto in Saturday's Grade III $100,000 Bob Hope Stakes, coming five days after the win by Chasing Yesterday in the counterpart-for-fillies $100,000 Desi Arnaz Stakes, Hall of Trainer Bob Baffert has two legs up on a sweep of the four stakes for 2-year-olds during fall racing at Del Mar.
But he's not going to do it.
What's that you say?  Baffert, who has hundreds of 2-year-olds, many of the highest quality, year after year. Baffert, who showed off three, if you count Saturday's first-race winner Coliseum, potential show stoppers in the last three baby races he entered. Baffert, who saddled 11 maiden race winners among 13 victories during the summer meeting here and has, by his guess, 17 2-year-old wins this year.
That's true. But whereas Baffert is an overpowering force in 2-year-old races on dirt, it's not the same on turf. And the two remaining 2-year-old stakes are both grassy miles – the $100,000 Grade III Jimmy Durante for fillies next Saturday and the Grade III Cecil B. DeMille the following day.
Baffert has Der Lu, a first-out winner here last August, nominated for a grass debut in the Jimmy Durante. He doesn't have any nominees for the Cecil B. DeMille.
So, while other trainers relish the thought of 2-year-old stakes without Baffert monsters to fight, he can savor the recent successes and plot for bigger ones down the road.
Chasing Yesterday is headed for the Starlet and Mucho Gusto the Futurity at Los Alamitos.
"My barn is all younger horses, and it's nice when they're running well," Baffert said.  "Our clients get excited about these 2-year-old races and Derbies, but usually when they get older their value is at stud and they leave.
"There are challenges. Things can go wrong. But that's what we do and it's fun."
Coliseum, a homebred son of Tapit for Godolphin LLC of Sheikh Mohammed al Maktoum of Dubai, wired the field in the 7-furlong opener Saturday piloted, as was Mucho Gusto, by Joe Talamo.
"(Coliseum) has been tough to work with, he wants to run off in his works and it's been hard to get him to relax," Baffert said. "Now we've got that race out of the way and we'll stretch him out. I'm happy for Joe. He has put in a lot of time and work with him. He's a good horseman and he gives me a lot of good feedback."
---
PURSUERS AT HIS HEELS, LEADING RIDER FRANCO STAYS FOCUSED
Entering the Sunday program that marks the halfway point of fall racing at Del Mar, Geovanni Franco was atop the jockey standings, as he had been since he recorded two victories in each of the first two days of the meeting.
But the 27-year-old from Mexico City's seven wins from 32 mounts were only one better than Drayden Van Dyke (6-for-28) and two ahead of Flavien Prat (5-for-34), the rising stars of the Southern California jockey colony who battled hard before Van Dyke pulled away late in the summer meeting.
"I had a pretty good start, and I'm hoping to finish strong," Franco said Sunday morning outside the stable area racing office. "I know that (Van Dyke and Prat) are getting close. I wish them the best of luck, but I'm going to ride the hair off my horses."
Franco and Prat each have six mounts booked on the eight-race Sunday card, Van Dyke four.
"We've been working hard and the horses have been running well, so we'll just keep doing that and see what happens," said Franco, who made his presence felt in the summer when he tied for sixth place with 17 wins.
Franco's fall victories have come for trainers Robertino Deodoro, Vladimir Cerin and Craig Lewis. When asked for the most memorable, or best ride, he cited the one on Holland Road ($31.40) last Monday for Lewis. Holland Road went to the front approaching the half-mile pole and held on gamely the rest of the way for a half-length victory.
"That horse gave me every thing he had," Franco said.
Franco will ride here through a week from Friday but head to Florida that evening for Saturday assignments in the Claiming Crown day of racing at Gulfstream Park. Franco will be back to Del Mar for closing day, December 2.
He is already scheduled to ride Big Score in the $200,000, Grade II Seabiscuit Handicap here on November 24 for trainer Tim Yakteen and Isotherm in the Grade III, $100,000 Native Diver on November 25 for trainer Phil D'Amato.
"A couple wins in the stakes would be nice," Franco said.
---
COUGAR II WINNER BEACH VIEW SET FOR RETURN IN TURF CUP
Trainer Leonard Powell had thoughts of running Beach View in the $1 million TVG Pacific Classic last August. But days before the race, the 5-year-old Maryland-bred son of Giant's Causeway incurred some cuts on a front leg in a stall accident.
It's nearly three months since the accident, and four since his upset victory over Hoppertunity in the Cougar II Handicap here, but now the Levy Racing colorbearer takes on another 1 ½ mile assignment in Friday's Grade II $200,000 Hollywood Turf Cup.
The Cougar II was 1 ½ miles on the main track.
"It took some time to heal and get back to training, but I think that fitness-wise I have him back to what he was for the Cougar," Powell said Sunday morning. "It's never easy to come back from such a layoff, especially in a 1 ½-mile race, but we are going to try."
Powell also has last summer's Del Mar Oaks winner, Fatale Bere, nominated to both the Hollywood Derby, where she would take on 3-year-old males on December 1, and the  Matriarch, where she would go against older females on December 2. Both are Grade I, $300,000 events.
"She just had her first work back (since early October) and will work again next weekend," Powell said. "It's 50-50 if she will run, but we'll see how she looks."
---
CLOSERS — Jessie Black, the daughter of former Padres and current Colorado Rockies manager Bud Black, celebrated her birthday at Del Mar Saturday and presented flowers to the winner of the fifth race — Hitters Park. Coincidentally, Coors Field, where the Rockies play, is known as a hitter's park for the way batted balls travel in the thin air at the mile high altitude.